Brewery: Boston Brewing Co. | Beer: Samuel Adams Double Bock (Imperial Series Version)
Style: Doppelbock | ABV: 9.5% | IBUs: 25
Serving Method: 12 oz. bottle poured into tulip glass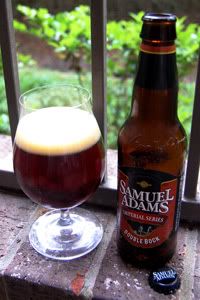 A few weeks back, I reported the exciting news that Sam Adams was adding an Imperial series to their lineup. Well, I was able to secure a pack of each of the three varieties and I'm ready to start reporting my findings. First up, I decided to review the established member of the team.

This is the only beer in Sam Adams' new Imperial Series that isn't totally new. There has been Sam Adams Double Bock for 20 years now, it was actually their first seasonal offering. However, this isn't just a relabeled old timer, the recipe has been revised heavily, with almost a full percent of alcohol added in the process. I never had a chance to try the old version, it would have been interesting to see how it's changed.

The label reads "Enjoy this beer now or age to develop unique flavors" and has a message from Jim Koch:

Samuel Adams Double Bock is brewed with a half pound of malt in each bottle, almost enough for a loaf of bread. This intense, rich lager reveals a deep mahogany color and velvety smooth flavor. Samuel Adams Double Bock is one of our most sought after brews. Enjoy!

On a bit of a tangent, the label also reads "Lager (Ale in TX)." What is is about out state lines here that can magically change the classification of a beer once you cross them? We really need to repeal a lot of the arcane liquor laws around here. Anyway, enough ranting about the wacky world of Texas law, how's the beer?
Appearance:
A clear, dark red-brown body with a finger of caramel-tinged head that leaves spotty lacing.
Aroma:
Lots of caramel malt dripping with sweetness and booze. No hops to be found here.
Taste:
Sweet caramel malt with dark fruit, smoke, chocolate, and Scotch notes. Pleasant alcohol in the back, playing a perfect supporting role. Certainly one of the most complex Sam Adams beers I've tried. The aftertaste is malty and boozy.
Mouthfeel:
Full-bodied and velvety smooth with moderate carbonation. Coats well, but never too syrupy. A lovely subtle burn in the throat.
Drinkability:
Above average for a beer with this level of alcohol, but still very much a slower beer. Great for savoring after a meal.
Verdict:
T
his is just about what I expected when I first head "Sam Adams" and "Imperial Series" in the same sentence. A solid, though not earth-shaking, beer that's head-and-shoulders above the rest of the Sam Adams line. The Imperial version of Double Bock is a complex and satisfying beer, and a great companion for after-dinner contemplation.

Grade
:
A