Brewery: Southern Star Brewing Co. | Beer: Bombshell Blonde Ale
Style: American Blonde Ale | ABV: 5.3% | IBUs: 20
Serving Method: 12 oz. can poured into pint glass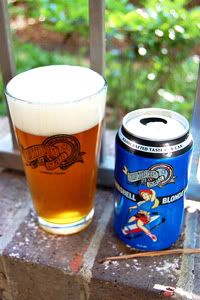 Back in January, I posted a review of the first beer brewed by the upstarts at Southern Star, their Pine Belt Pale Ale. The brewery is actually about ten miles from my apartment, so I was very excited to try some beer brewed so close to home. Pine Belt turned out to be a great beer, and now has a recurring role in my rotation. I've been patiently awaiting their next retail release, and now the time has come.

The second offering to make it to the shelves from Southern Star, Bombshell Blonde Ale is (rather obviously) a Blonde Ale. This style is relatively new, and is essentially an invention of American craft brewers. Many times, a brewery's Blonde Ale serves as the entry-level, or gateway, beer in the lineup. They're typically in the straw to golden range with a medium-light to medium body and good drinkability. As for balance, these are malt-forward beers with lighter flavored malt profiles (think bready and biscuity) and light to medium hoppiness.

As for ingredients, Bombshell's malt backbone is constructed of Rahr Special Pale and Wyermann Viennaa varieties, while German Tradition Sterling is the exclusive hop variety used. California Ale yeast is employed once again. Here's how Southern Star themselves describe Bombshell:

A rich, creamy golden colored ale fermented at a cool temperature to give a clean finish. Hints of yeasty bread and a touch of hops combine to make a beer that is truly more than the sum of its parts.
By the way, I mentioned in my last review that I was going to try to make it up to the brewery to check it out, and I
finally
made the trip last weekend. Dave has really got a great thing going, with an impressive brewery and some great beers on tap (you
have
to try the Buried Hatchet Stout). I thoroughly recommend that anyone in the Houston area that cares about great beer make it to one of their Saturday tastings. You can find more info on the
Southern Star website
.
Appearance:
Hardly blonde in color, this is a lovely shade of golden-amber. There are a million particles of sediment suspended in the body, living up to the "clarity is overrated" slogan on the can. The finger of craggy head is off-white in color and features great retention and lacing. I could stare at this all day.
Aroma:
Sweet, bready and biscuity malt with a few hints of citrus and earthy hops.
Taste:
The same solid malt backbone is firmly in charge here. The profile runs the gamut from husky, to bready, to biscuity, to caramel-like. There's a splash of citrus and mild hop bitterness in the finish for balance. The aftertaste keeps the malt chorus going.
Mouthfeel:
Medium-bodied and smooth with mild carbonation. It finishes clean.
Drinkability:
Top-notch, I could drink this all night.
Verdict:
Perfect for sessioning, Bombshell is just a mild and friendly beer. Every brewery has to have an offering or two in their lineup that appeals to the fans of "lighter" beers, luckily this one has soul and flavors in abundance. A perfect companion for a hot Summer day here in Texas.
Grade
:
A-