A few years ago while visiting an Amy's Ice Cream parlor in Austin, I came across a truly heavenly concoction. Amongst the list of amazing flavors, there it was: Guinness. This was back in my Guinness phase, before I had really started exploring the world of beer, so I was ecstatic. I stepped up to the counter and placed an order that I had placed a thousand times before: "I'll have a pint of Guinness, please."

The concoction lived up to my greatest expectations, and with no Amy's locations within 150 miles of my apartment, I decided it was finally time to take matters into my own hands in order to furnish a steady supply of the stuff. Since my wife and I received an ice cream maker attachment for our stand mixer at our wedding, there was really no excuse not to give it a try. After some basic research (also known as Googling "Guinness ice cream recipe" and clicking the first result), I found a recipe from The Boston Globe to try out (check it out here).


Here's the ingredient list the recipe calls for:

1/2 vanilla bean, split lengthwise
1 cup whole milk
1 cup heavy cream
2/3 cup Guinness stout
2 tablespoons plus 2 teaspoons molasses
4 egg yolks
1/3 cup sugar
1/2 teaspoon vanilla extract

We decided to make some slight adjustments. We cut the molasses in half, subbed coconut extract for the vanilla (both extract and bean), and instead of Guinness Draught, we went with some Guinness 250 Anniversary Stout.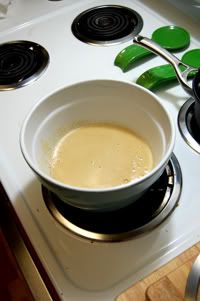 The first step was heating the cream, milk, and a dash of the extract to a boil and setting it aside to cool. Next, we whisked together the Guinness and molasses, heated the mixture to a boil and cooked it until it reduced to about a quarter of its original volume, and set it aside along side the cream. While both saucepans cooled, we mixed the sugar and yolks together into a mixing bowl. Then, we slowly whisked the warm cream mixture into the mixing bowl and poured the mix into the saucepan along with the beer mixture. Finally, we heated the mixture for about six minutes, until it was nicely thick, strained it, and placed it in the fridge for two hours. Simple as that.
After waiting for the excruciating two hours, we pulled out the pre-frozen freezing bowl (it takes 15 hours to freeze the bloody thing, so plan ahead) and the stand mixer to get to the exciting part. Before dumping our mix into the bowl, I decided to take a quick sample, and... it tasted horrible. It was savory, salty, and totally wrong - my first thought was the molasses. I was wary of the stuff from the beginning, hence cutting the amount included by over half. I took a whiff of the molasses in the jar just to be sure, and it certainly seemed like the culprit. Who knew molasses was so gross?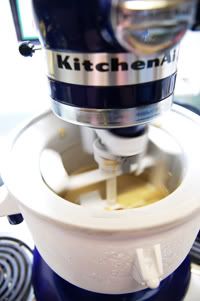 So now what? Well, I like to see things through, so I did what anyone would do: I poured a shitload of sugar and coconut extract in the mix and crossed my fingers. It tasted a lot better when I sampled it, but was still rather off. However, we hadn't come this far for nothing, so I dumped it in the freezing bowl, turned it on, and walked away from 25 minutes. It certainly looked the part after it's time in the mixer, and the texture was awesome, but it still tasted
terrible
. We're talking soy sauce flavored ice cream here - no offense Boston Globe, but that was bullshit.
Okay, okay, okay. That sucked. Badly. Luckily we still had eggs, milk, and cream left in the fridge so we decided to give it another whirl (pun intended). At least we knew that the ice cream maker works like a charm and that most of what we did worked. So, the next day we set out again, but with a few changes.
After researching some different recipes for Guinness ice cream and reflecting on the previous day's events we decided it was best to rule out as many variables as possible to avoid another wasted bowl of ice cream. So instead of the new Guinness 250 Anniversary (which is tasty enough, and I'm sure can be made into a delicious ice cream) we went with regular old Guinness Draught, instead of coconut extract we went back to vanilla, and instead of adding molasses to the mix we threw the jar in the trash. Besides those swaps, everything was exactly the same.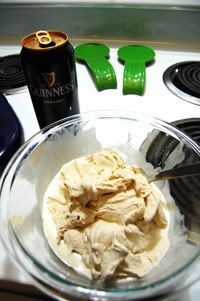 This time, we hit paydirt. All of the flavors mesh perfectly together with none of the offending flavors from the first batch present. It's tastes like rich, incredibly creamy vanilla ice cream with subtle Guinness flavors (toasted malt with coffee and chocolate) mixed in (imagine that). The texture is perfectly fluffy and creamy, I'm shocked how perfectly it came out. I think this is just the first batch in a very long line of beer flavored ice creams coming out of our kitchen. Stay tuned for new flavors coming soon and feel free to leave a comment with any suggestions.
So, to anyone thinking about making their own beer flavored ice cream, or any kind of ice cream really, I encourage you to go for it. Just hold the molasses.