Brewery: Oskar Blues Brewery | Beer: Ten Fidy
Style: Russian Imperial Stout | ABV: 10.0% | IBUs: 98
Serving Method: 12 oz. can poured into tulip glass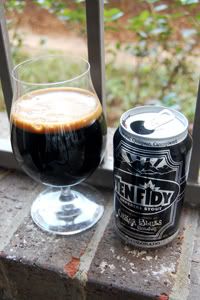 Believe it or not, after over sixty reviews here on PintLog, I've yet to review one of my absolute favorite styles: the Russian Imperial Stout. Well, that changes today.

The Russian Imperial Stout style dates back to late 1700s, when British brewers started to brew up an incredibly hoppy and potent version of Stout for export to Russia. Fortified to live up to both the journey to Russia and the tastes of it's resident, these were some big beers. They were said to be quite popular with the Russian Imperial court, hence the name. Recently, there's been a big resurgence of the style in the American craft brew scene. Much like Double IPAs, they work well as an no-compromises showcase for a brewer's talents and are one of the beer community's absolute favorite styles.

So, what Russian Imperial Stout to start with? While there are plenty on the market here in Houston, I was extremely excited this past Winter to find cans of Oskar Blues' legendary Ten Fidy on the shelves. With tons of buzz in the beer community and constant mentions on top beer lists, I've been waiting to try this beer for a long time now. Ten Fidy is a full-blown Russian Imperial Stout with ten percent alcohol by volume and almost 100 IBUs. Here's how Oskar Blues describe Ten Fidy:

It's the beer equivalent of decadently rich milkshake made with malted-milk balls and Heaven's best chocolate ice cream.
How can you not like that? Let's pop a can open and see what lies inside.
Appearance:
My God, it looks like motor oil as it pours out of the can. Blacker than black and thick as molasses, this is without a doubt the darkest beer I've ever seen. It's like a black hole, absorbing all light it comes in contact with. In the glass, it pours a very minimalistic deep-caramel head with half-decent lacing and retention.
Aroma:
If you melted a bar of dark chocolate and mixed it with a few drops of pure hop oil and a shot of ethanol, this is what it would smell like. Powerful is somewhat of an understatement.
Taste:
Pounds of dark-roasted, bittersweet chocolate malt condensed down into an aluminum-wrapped twelve ounce serving. But don't be fooled into thinking this is just a one-dimensional beer. Somehow, the maniacal brewers have found space in the can for a big wall of hops. How can a beer as big as this seem somewhat balanced? Madness. As you'd expect for a beer in the double digit ABV realm, the booze likes to raise its voice. As it warms, it kicks your ass more and more.
Mouthfeel:
I've compared other beers to milkshakes before, but they all seem like water compared to this. This is simply massive and smooth as all hell. The booze makes itself known in your throat.
Drinkability:
You'd have to be some sort of God/lumberjack hybrid to be able to throw this back with ease.
Verdict:
Ten Fidy is an experience, to say the least, and the best Russian Imperial I've tried yet. A massive body with a brilliant malt profile and a nice flourish of hops. If you like Russian Imperial Stouts whatsoever and can find this in your area, buy it. If you can't find it in your area, move.
Grade
:

A+
Note: While this review is being published in June, the tasting notes contained within were taken when the beer was fresh last Winter.