Brewery: Brooklyn Brewery | Beer: Summer Ale
Style: English Pale Ale ABV: 5.0% IBUs: ~25
Serving Method: 12 oz. bottle poured into pint glass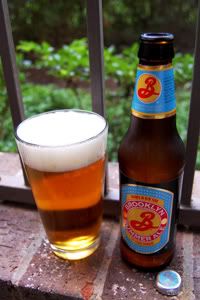 This review is a part of an article on summer seasonals as part of the monthly beer blogging project The Session.

Brooklyn describe their summer seasonal, Summer Ale, as a an modern take on the "English Light Dinner Ale" style that was popular from the 1800's until the 1940's. I've listed it as an English Pale Ale here, as that seems like the closest match (if you think there's a better fit, please let me known in the comments). I love when a brewer chooses something other than a lager for their summer brew, and I love it even more when brewers try to bring a defunct style back to life, so I'm pretty excited about this one

As for ingredients, Summer Ale's body is made up of two-row British malts while bitterness is provided by Perle, Cascade, Fuggle, and Amarillo varieties. Here's how Brooklyn pitch Summer Ale's flavor profile:

A light-bodied golden beer [with] a fresh bready flavor, a light crisp bitterness and a citrus/floral aroma, resulting in a beer with a very sunny disposition.
Sounds like just what I need in this crushing Houston heat, so let's give it a whirl.
Appearance:
A crystal-clear golden-amber body with two fingers of off-white head. The head recedes slowly and leaves decent lacing. There's just something about the tone of amber that's very satisfying.
Aroma:
Grassy mild hops, biscuity malt, and perhaps the
barest
hints of alcohol.
Taste:
Clean and crisp. Up front there's a wave of earthy, grassy, and slightly citrusy mild hops. Underneath, the mild bready malt backbone is almost wheat-like in it's lightness. The aftertaste is a mix of grains and a little lemon.
Mouthfeel:
Medium-bodied with crisp carbonation, almost approaching soda levels (but it works). A dry finish.
Drinkability:
Everything is right here to make for a very quaffable brew.
Verdict:
Summer Ale is a solid enough mild beer that works as a great warm-weather alternative to all of the Lagers and wheat beers out there. It's not the most complex or interesting beer out there, but it's not meant to be. Certainly worth a try.
Grade
: B