Brewery

:
Rogue Ales Brewery
|

Beer

: Somer Orange Honey Ale


Style

: American Pale Wheat Ale |

ABV

: 5.2%
|
IBUs
: 10
Serving Method

: 22 oz. bottle poured into pint glass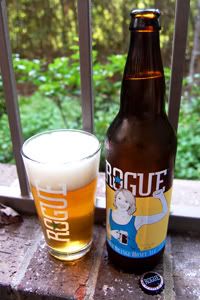 This review is a part of an article on summer seasonals as part of the monthly beer blogging project The Session.
Rogue is a Oregon-based brewery that's been producing great beer since way back in 1988, making them one of the oldest micro-breweries in the country. Best known for their Dead Guy Ale and awesome silk-screened 22 oz. (or
bomber
) bottles featuring the "Rogue" character, they've become one of the most ubiquitous and visible craft-brew brands around.
Somer Orange Honey Ale is a new addition to the Rogue lineup this year, though similar beers have been available at the brewery for a few years. Here's how Rogue describe Somer: "this unfiltered beer flavors of orange and honey with a nice medium-sweet malt character."


Northwest two-row and wheat malt varieties make up the body, while Crystal and Rogue Farms Willamette hops provide the bitterness. The rest of the ingredient list is a little more exotic, and includes chamomile, coriander, sweet orange peel, Oregon wildflower honey, and oats. This is shaping up to be quite the unique beer.
Appearance:
A brilliantly hazy, golden-orange body capped by two fingers of off-white head that quickly fade into minimal lacing. It's worth noting that the last pour is
far
hazier than the first pour.
Aroma:
Fruit, mild coriander, and mild bitterness over a wheat base; it's lacking just a little as far as intensity goes.
Taste:
Golden fruit, citrus, and spicy hops on top of a pale malt and wheat backbone. I'm not picking up too much in the way of honey, but it's there if you go looking. The aftertaste is toasty and grainy with a hint of bitter citrus.
Mouthfeel:
Medium bodied with moderate carbonation and a drying finish.
Drinkability:
As a summer seasonal, it's no surprise that this is refreshing and highly drinkable.
Verdict:
Somer Orange Honey is a tasty and refreshing summer seasonal that works nicely on a hot day, though it would probably benefit from more citrus and honey. Ultimately, a little too plain to really capture my attention.
Grade:
B