Brewery: Saint Arnold Brewing Co. | Beer: Divine Reserve 8
Style: Strong Scotch Ale/Wee Heavy | ABV: 9.3% | IBUs: ~25
Serving Method: 12 oz. bottle poured into tulip glass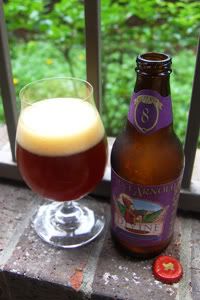 Saint Arnold's single batch Divine Reserve series has become the stuff of legend here in Houston. There are no set rules for the series and it's proven to be quite the opportunity for experimentation, so it's always a bit of a surprise when the newest release is announced. Previous releases include an Imperial Stout, a pair of Barleywines, a Double IPA, a Quadruppel, and a dark Weizenbock.

Divine Reserve 8 is the second Strong Scotch Ale in the series, but the recipe is all new. It was inspired by homebrewer Phillip Kaufman's winning entry in the 2009 Big Batch Brew Bash. Philip purchased many of his ingredients from Brew-It Yourself, the same store I use for my homebrewing supplies and ingredients, which really gives me the itch to dust off the brew kettle.

As for the version that hit the shelves, the malt backbone is composed of a mix of 2-Row, Biscuit, Dark Crystal, Amber, Peated, Caramunich and Wheat varieties while Hallertau Tradition hops are added early in the process and Hallertau Hersbruckers are added towards the end. A traditional Scotch Ale yeast is employed and the beer is unfiltered.

Here's how Saint Arnold describe the resulting brew:

The taste opens with sweet malt and spice, then the alcohol comes up with a light residual sweetness on the finish. A balanced smoky flavor is in this beer from start to finish, although it never is the dominant character.
Unfortunately, not everyone was able to get their hands on DR8. Despite this being the biggest batch of the Divine series thus far at just over 1500 cases, many seekers went home empty handed. The current brewery simply doesn't allow for more Divine series to be brewed without cutting into the production of other Saint Arnold beers. Until the move to the new brewery takes place, it appears demand will surpass supply.
Appearance:
A murky, nearly opaque orange-brown body capped by about a finger of tan head that dissipates in a minute or so and leaves little in the way of lacing.
Aroma:
Rich caramel malt accompanied by lots of booze and lovely smoky notes.
Taste:
A complex malt body with lots of toffee, caramel, and brown sugar notes. There's a subdued peaty smokiness throughout, adding lots of character. The alcohol content is reigned in masterfully, leaving just the right amount to add depth without ever getting in the way. It's bitter and smoky in the aftertaste.
Mouthfeel:
A medium-full body with good carbonation and a little warmth from alcohol.
Drinkability:
Certainly a beer meant to be savored, though not a full-blown sipper.
Verdict:
Divine Reserve 8 is a solid example of the Strong Scotch Ale style, something that's sorely lacking on the shelves here in Houston. Hopefully now with two Scotch Ales from the Divine series under their belts, Saint Arnold will brew one up on a more regular basis. I'm looking forward to how this release ages and evolves over the years.
Grade:
A-