The Session is a monthly project where a bunch of beer bloggers all blog about the same topic. You can read more about the project here. This month's host is Peter Estaniel of the Better Beer Blog, and the topic he has chosen is Summer Beers, a meditation on the brews of summer.


As a concept, summer is rather redundant here in Houston. Generally lasting from March to October, the Bayou City's hot months really hit their stride in July an August—a period that could fairly be referred to as "Summer²" or "Holy Shit, It's Hot!" With such an aggressive climate, we require a lot of quenchers here, making summer seasonal beers very welcome additions to our shelves.

With that in mind, I've gathered a group of five different summer-themed beers. Represented are breweries from all three coasts, along with both ales and lagers. Some I have tried before, and some I have not—but this is the first time for any of them to be reviewed here on PintLog. Hopefully, I'll find a new favorite summer refresher. Here's the lineup: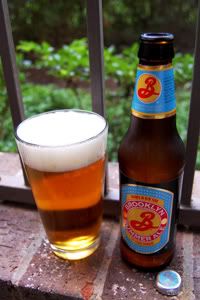 First up, Brooklyn Summer Ale,what Brooklyn describe as a modern interpretation of the now obsolete English Light Dinner Ale style that died off about 70 years ago. Essentially an English-style Pale Ale, Summer Ale is a tasty and straightforward beer that refreshes nicely without being too bland. You can read my full Brooklyn Sumer Ale review here.


Next, we have Harpoon Summer Beer, a Kölsch-style beer from the boys in Boston. This year marks the beer's ten year birthday of Summer Beer, so they must be doing something right. It's a crisp, Pilsener-like, and easy-drinking brew that really fits the bill on a hot afternoon. Not terribly exciting, but sometimes that's not a problem. You can read my full Harpoon Summer Beer review here.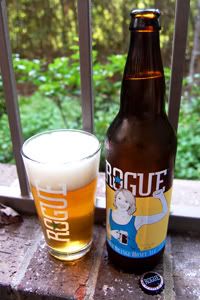 From Oregon comes Rogue Somer Orange Honey Ale, which is an unfiltered wheat beer brewed with (you guessed it) oranges and honey. Unfortunately, it's lacking some clarity (pun not intended) in the flavor department, but it's still a sold beer that's a welcome company during the dog days of summer. You can read my full Rogue Somer Orange Honey Ale review here.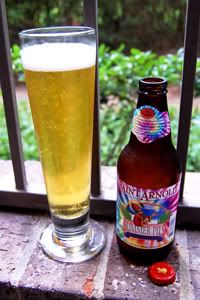 Playing the part as local favorite today is Saint Arnold Summer Pils, a Czech Pilsener with a solid German malt base. A nice hybrid of the the two Pilsener styles, Summer Pils is highly drinkable and a great showcase for noble hops. This tie-dyed local favorite is almost as good to enjoy after mowing the lawn as the brewery's Fancy Lawnmower. You can read my full Saint Arnold Summer Pils review here.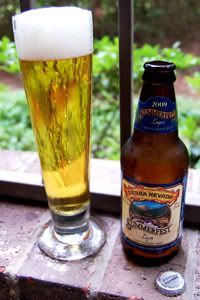 Lastly, we have Sierra Nevada Summerfest Lager, which happens to be the only lager in the Sierra Nevada lineup. Also a Czech Pilsener, this is a crisp and refreshing beer that you can easily drink all day. A great beer for barbecues and the like, Summerfest is a craft-brew that anyone can enjoy. You can read my full Sierra Nevada Summerfest Lager review here.

With such a diverse group of Summer seasonals, how do they stack up against each other?

In fifth place,

Harpoon Summer Beer

—tasty enough and very appropriate for the season, but just a little too forgettable.
In fourth place,

Rogue Somer Orange Honey Ale

—great on paper, a little plain in the glass.


In third place,

Brooklyn Summer Ale

—a nice alternative to all of the Lagers crowding the shelves and a rather good quencher, though not quite good enough to top the list.


In second place,

Sierra Nevada Summerfest

—a masterfully hopped and satisfying brew, this is one of my favorite American lagers.



In first place, today's winner (by a very narrow margin) is

Saint Arnold Summer Pils

—at the end of the day, this is the beer I'd be reaching for on a muggy Houston summer afternoon.

Well, they shook out into two distinct and very narrow clusters. The ales all received a "B" grade, while the two lagers both garnered an "A-." It may be tempting to arrive at the conclusion that I prefer lager-style beers for summer, I don't necessarily think that's the case here. While I think the style is perfect for the season, I think that the two I happened to pick for this comparison were just better constructed beers than their ale counterparts.