Brewery: Sierra Nevada Brewing Co. | Beer: Southern Hemisphere Harvest Ale 2009
Style: American India Pale Ale | ABV: 6.6% | IBUs: 66
Serving Method: 24 oz. bottle poured into pint glass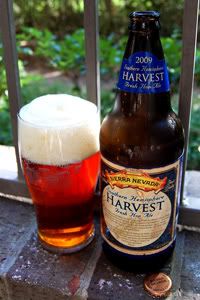 Sierra Nevada, a brewery known to many for it's use of hops, brews up a series of fresh-hopped beers known as the Harvest Ale Series. Harvest Ale, available in early fall, was the first beer in the series and features un-dried Cascade and Centennial hops from the Yakima Valley in Eastern Washington. Chico Estate Harvest Ale, which features Cascade, Centennial and Chinook hops grown at the Sierra Nevada brewery, can be found in late summer.

Last year, Southern Hemisphere Harvest Ale, which features fresh hops sourced from New Zealand, became the third beer in the series. It's actually the only American beer to feature fresh hops from the Southern Hemisphere, which makes it the only American fresh-hopped beer available in the spring. All other examples on the market use hops from the Northen Hemisphere, where hops are harvested in the fall.

As soon as the hops are picked in New Zealand, they are dried and flown to the brewery in Chico, California. The whole process, from fresh on the vine to the brewing kettle, takes about a week, ensuring the freshest hop aromas and flavors possible. As for the specific hops employed, Pacific Halertaus are used for bittering, while a mix of the New Zealand Southern Cross and New Zealand Motueka varieties are used for finishing. The malt backbone underneath is built with pale and caramel varieties.

Well, this is a beer meant to be enjoyed as fresh as possible, so let's dig in!

Appearance: A slightly hazy, orange-amber body with some very fine particles in solution. Up top, a generous, fluffy off-white head that features excellent retention and lacing.

Aroma: A bright blast of citrusy, floral, and spicy hops. There's a caramel malt base underneath to keep everything together.

Taste: Similar bright hop characteristics up front. They're grapefruity, piney, floral, and slightly resiny. You can taste the 66 IBUs, and they probably put this somewhere between Pale Ale and India Pale Ale. The caramel malt backbone makes a much bigger impact in the flavor than in the nose, making this a very balanced Pale Ale. The aftertaste is moderately bitter and toasty.

Mouthfeel: A lightly creamy, medium body with good carbonation and a dry finish. Top marks.

Drinkability: The big 24 oz bottle goes back with no trouble at all, very sessionable.

Verdict: Southern Harvest is a nicely bitter, yet well-balanced Pale Ale. I love the idea of having a beer hopped with fresh hops in the Spring, and it's a real treat to try some of the best hops that the Southern Hemisphere has to offer in near-optimum condition.

Grade: A

Note: While this review is being published in September, the tasting notes contained within were taken when the beer was fresh this past May.