Brewery: Sierra Nevada Brewing Co. | Beer: Summerfest Lager
Style: Czech Pilsener ABV: 5.0% IBUs: 32
Serving Method: 12 oz. bottle poured into Pilsener glass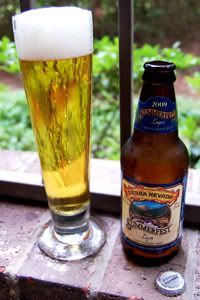 This review is a part of an article on summer seasonals as part of the monthly beer blogging project The Session.

Sierra Nevada only brew one lager-style beer, and that's their summer seasonal, Summerfest. To go through all the work necessary to brew and condition lagers and then crank just one beer that is available just three months a year may seem a little crazy, but I prefer to think it of it as a testament to how uncompromising Sierra Nevada are.

Unlike some of their seasonal releases, the brewers at Sierra Nevada strive for each release of Summerfest to be perfectly consistent. As for construction, bitterness is provided by Saaz and Perle hops while the backbone is constructed with two-row pale and Munich malt varieties. Summerfest is subjected to an "extra-long" lagering period, which the brewery credit with the smoothness of the flavor profile. Here's how they pitch the beer:

Lighter in body than our ales but just as complex in character, Summerfest quenches your thirst with big aroma and a tangy hop bite.
Sounds like just the thing to help fight the summer heat here in Houston, so let's get the liquid refreshment flowing.
Appearance:
A clear, golden-straw colored body with a generous and bubbly white head on top that leaves good lacing. This certainly looks the part.
Aroma:
Grassy, herbal, and lemony Saaz hops over pale malt. Quite crisp.
Taste:
Much the same story here. Classic Saaz hop character over a pale malt body with some wheat-like flavors added to the mix. The aftertaste is not long lived, and tastes of pale malt.
Mouthfeel:
Medium-light bodied with moderate carbonation. Crisp and clean with a dry finish.
Drinkability:
Quite the quencher, this would be excellent on a summer's day.
Verdict:
Summerfest is just a solid, tasty American version of the classic Czech Pilsener. I'd love to slip one of these to one of my macro drinking buddies and see what they thought of it.
Grade:
A-