Brewery: Widmer Brothers Brewing Co. | Beer: W'09 Belgian Style Ale
Style: Belgian Pale Ale | ABV: 6.5% | IBUs: 26
Serving Method: 12 oz. bottle poured into tulip glass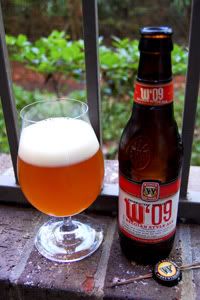 Widmer Brothers Brewing Company was founded in 1984 by Kurt and Rob Widmer in Portland, Oregon, a city now known a "Beervana." When the brothers founded their brewery though, Portland was still far from Beervana, and the country was just starting to get a taste of good beer again. In the 25 years since the brewery was founded, much has changed in the company and the industry, and Widmer has evolved into one of the most powerful craft breweries on the scene through a devoted following and some big business dealings

In an attempt to get in on the craft brew bubble, Anheuser-Busch bought a minority stake in the company in 1997, giving Widmer a ride on AB's trucks and increasing their distribution potential exponentially. In 2007, Widmer announced it would merge with Redhook Ale Brewery (another company AB owned a stake in) to form a company named Craft Brewers Alliance, which is currently the seventh largest brewery in the country.

Each year, the company brews up a special new beer under as part of the "W" series. This year's, W'09, is a Belgian Pale Ale built with 2-Row Pale and Briess Caramel 10L malts with Alchemy (for bittering) and Sterling (for aroma) hops that the company describes this way:

The brewers have recreated a classic Belgian style Golden ale that holds true with a unique aroma and flavor. The ale has a hop spiciness that gives it a little extra pop. And at 6.5% ABV the drinker will feel a nice warming sensation while consuming.
I figured a special release, and a Belgian-themed one at that, would be an appropriate first review for Widmer, so let's dive in.
Appearance:
A slightly hazy, golden-orange body. On top, one finger of off-white head that recedes quickly and leaves spotty lacing.
Aroma:
A complex Belgian mix: coriander, clove, banana, apples, yeast, and sweet, bready malt. Good stuff.
Taste:
All the same character from the aroma, with the intensity ratcheted up a few notches. There's lots of spices, yeast, and fruit over a solid bready pale malt base. Similar to a Witbier in some ways. The aftertaste is bready malt with a mild bitterness.
Mouthfeel:
Medium-bodied and smooth with good carbonation. Dries in the finish.
Drinkability:
Decent enough
—i
f you like the flavor profile you could drink a few of these easily.
Verdict:
W'09 is a
tasty enough Belgian-style beer, though it's more of an impression than a recreation if you catch my drift. It seems to me like it might be somewhere in between a Belgian Pale Ale and a Witbier, rather than just a straight-up Belgian Pale, but that doesn't bother me too much. A great beer to introduce some Belgian flavors to the uninitiated, and an okay substitution if you're in the mood for a Belgian but can't find the real stuff.

Grade
:
B+
Note: While this review is being published in November, the tasting notes contained within were taken when the beer was fresh this past April.