Brewery: Dogfish Head Brewery | Beer: Fort
Style: Fruit Beer | ABV: 18.0% | IBUs: 49
Serving Method: 750ml bottle poured into tulip glass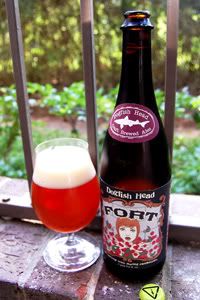 Dogfish Head is known for experimental high-alcohol beers, and Fort is a terrific example of their special brand of madness. Brewed to a strength of 18 percent alcohol, it would have been the strongest beer on the planet just a few years ago. Though there are a handful of stronger brews out there, Fort is the strongest fruit beer on the planet according to Dogfish.

Fort is raspberry-focused and brewed with a "ridiculous amount" of pureed raspberries. That's not just marketing gibberish—the brewers add about 20 pounds of raspberries per barrel during fermentation. Fruit beers are typically lighter fare, but this is anything but. The name is an appropriate reference to the beer's staying power, as it can age for quite a while.

While I bought one bottle to age, this one is fated to be drunk fresh—so let's pop it open and try to make it to the bottom, shall we?

Appearance: To be honest, I was really expecting this to be a deep shade of red. In fact, it's a hazy, deep reddish-pumpkin body with a decent off-white head that recedes rapidly and leaves only minimal lacing (with this level of alcohol, retention and lacing is virtually out of the question).

Aroma: Sweet, berry-like, boozy, and at times almost vinegary. Complex and unique—what on earth is this going to taste like?

Taste: Wow! Intense as hell! There is no question whatsoever that the alcohol content here is almost off the charts, it's in the forefront from the beginning to the end and almost spicy in its intensity. Once the booze-shock subsides, you find a lot of complexity underneath. There's lots of fruit, including berries, banana and pineapple. As for malt, the backbone is relatively light and basically stays the hell out of the way. The aftertaste is very boozy with some hints of berry.

Mouthfeel: Medium bodied, slick, and nicely velvety. There's enough carbonation here to make it more drinkable than a liqueur. Lots of boozy burn for the tongue, the cheeks, and the throat. Dry as hell.

Drinkability: This one is going to take some time... I'd much prefer a regular 12 oz. bottle over this monster.

Verdict: This is a thoroughly unique beer - and because of this, it's hard to rate. Style is pretty much out the window here, so there's nothing much as far as guidelines go. Looks like we're in uncharted territory here folks... This big bastard of a beer tends to blur the lines between an ultra-strong beer and a weaker liqueur. It's mad as hell, but I like it. The only thing I can offer as far as a comparison goes is an Imperial Imperial Framboise. I can't wait to see how this ages.

Grade: B+

Note: While this review is being published in December, the tasting notes contained within were taken when the beer was fresh this past April.