Brewery: Widmer Brothers Brewing Co. | Beer: 84/09 Double Alt
Style: Altbier | ABV: 9.8% | IBUs: ~70
Serving Method: 22 oz. bottle poured into tulip glass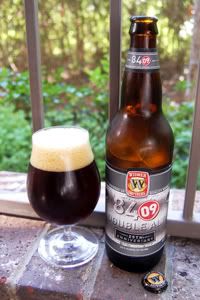 This year represents 25 years since the Widmer brothers founded their pioneering Portland brewery. The beer that really catapulted the company into prominence was their Hefeweizen, but the beer that really got them going in the first place was their Altbier. Altbier is a German style, whose name means "old beer." In this case, "old" refers to the fact that this beer represents traditional, pre-Lager takeover German brewing, not that the beer is aged or stale.

In honor of this year's anniversary, Widmer decided to brew up a tribute to their original Altbier, this time with the volume turned up to 11. The result is 84/09 Double Alt, which is essentially a Sticke, or "Double Altbier." With an alcohol level just shy of double-digits and this being my first Altbier of any description, this should be a rather interesting introduction.

Enough babble, let's crack a bottle in honor of a quarter-century of Widmer!

Appearance: A dark and murky mahogany body with stunning ruby highlights. Up top, two fingers of off-white, creamy head that sticks around a while and leaves good lacing.

Aroma: Lots of rich malt with spices and dark fruit. Reminiscent of a Doppelbock.

Taste: Similar to the aroma. Spices, raisins, and bananas over a rich and mildly bitter malt backbone. That nearly ten percent alcohol content is present throughout, but never oversteps its bounds. The aftertaste is peppery and somewhat boozy. Once again, a very similar profile to that of a Doppelbock.

Mouthfeel: A slightly fuller than medium body with moderate carbonation and a dry finish. You can detect alcohol on the tongue, especially as the beer warms.

Drinkability: Not quite a sipper, but it's close.

Verdict: Honestly, I would have pegged this as a Doppelbock, but that's probably due to my inexperience with Alts and Stickes. Regardless, 84/09 is a tasty brew and a worthy marker for this milestone. Congratulations on 25 years Widmer!

Grade: B+

Note: While this review is being published in December, the tasting notes contained within were taken when the beer was fresh this past June.