Brewery: Abita Brewing Co. | Beer: Andygator
Style: Doppelbock | ABV: 8.0% | IBUs: 25
Serving Method: 22 oz. bottle poured into Pilsener glass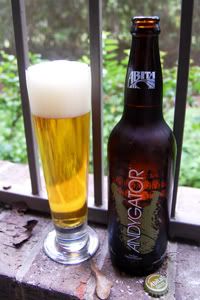 So far, the Abita brews reviewed here on PintLog have been from the Harvest series—mildish beers spotlighting a fresh Louisianan ingredient. While they've been pleasant enough, I decided to skip to something with a little more bite. Enter their Big Beer series, two eight percent beers with a more artisanal slant than the rest of their beers.

First up is Andygator, what Abita describe as a Helles Doppelbock. It's built with pale malt, hopped with German Perles, and brought alive by German lager yeast. Here's how they describe the finished product:

Unlike other high-gravity brews, Andygator is fermented to a dry finish with a slightly sweet flavor and subtle fruit aroma.
Just as a side note, it's worth noting that Andygator is presented in an absolutely gorgeous bottle—one of the nicest I've ever seen.
Let's see if the contents are equally impressive.


Appearance:
A crystal-clear, golden body with a large and sudsy off-white head that burns out quickly and leaves little lace.
Aroma:
A rich and grainy malt body accompanied by a nice dose of earthy hops and some fruitiness. Somewhat Doppelbock-like, but clearly something different.
Taste:
Not much to report over what was represented in the nose; dry, earthy hops over a sweet cereal-like malt backbone with lots of dark fruit and nutty notes in the mix. The aftertaste is grainy with just a hint of booze.
Mouthfeel:
A smooth, medium body with good carbonation and a dry finish.
Drinkability:
Perfectly quaffable, just watch the eight percent alcohol content.
Verdict:
Basically a souped-up Helles,
Andygator may not be a true Doppelbock, but it is a serviceable and solid enough brew. An interesting hybrid style, I'd like to see some other brewers have a shot at it.
Grade
:

B-