Brewery: Kona Brewing Co. | Beer: Pipeline Porter
Style: American Porter | ABV: 5.4% | IBUs: 30
Serving Method: 12 oz. bottle poured into pint glass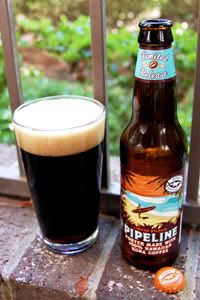 Founded in 1994 by a father and son team Cameron Healy and Spoon Khalsa, Kona Brewing Company is the best selling craft brewer on the Hawaiian Islands. Part of the Craft Brewers Alliance, along with Redhook, Widmer, and Goose Island, Kona enjoys distribution assistance from Anheuser-Busch. This arrangement also allows for the majority the Kona beer available on the mainland to be brewed by fellow Craft Brewers Alliance members.

The first Kona beer that really caught my attention was Pipeline Porter, an American Porter brewed with freshly roasted Kona coffee. Pipeline is available from September through March and features an absolutely gorgeous label design. Here's how Kona describe the beer:

Pipeline Porter is smooth and dark with a distinctive roasty aroma and earthy complexity from its diverse blends of premium malted barley. A delicate blend of hops rounds out this palate-pleasing brew.
I'm a big fan of coffee-themed beers, so hopes are high. Let's dive in.
Appearance:
A thick brown, nearly black, body that's remarkably similar to black coffee in direct light. A finger of caramel-tinged and bubbly head that dissipates quickly and leaves spotty lacing.
Aroma:
Typical roasty Porter character with the usual chocolate and coffee notes, but with much more focus on coffee. It really smells like a little bit of fresh ground coffee has been mixed in.
Taste:
It's pretty much the same story here. The coffee gets a little bit lost compared to in the aroma, but it's certainly still in higher proportion than your average Porter. The malt backbone could use a bit more muscle for my taste, but it's tasty enough. The aftertaste really keeps the coffee flavors going.
Mouthfeel:
Medium-bodied with lowish carbonation.
Drinkability:
Goes back pretty quick, but it's just not exciting enough to order another.
Verdict:
Pipeline is a very straightforward beer: a solid enough, but not amazing, American Porter
with a nice coffee focus. If you like Porters and coffee, give it a try, just don't expect a mind-blower.

Grade
:
B