Brewery: Lagunitas Brewing Co. | Beer: 2009 Correction Ale
Style: American India Pale Ale | ABV: 6.3% | IBUs: 74
Serving Method: 22 oz. bottle poured into pint glass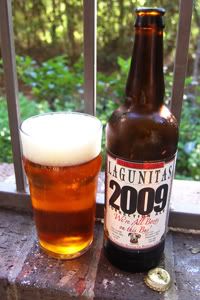 It's that time again, time to review another hoppy limited edition Lagunitas brew with a nebulous style and oddball name. Always an enjoyable, though perhaps not earth-shaking, experience, these beers are usually worth a try (or two).

What we have here is 2009 Correction Ale, what the label claims that is is "NOT a Double IPA, just a good American Ale." I'm calling an American IPA based on it's vitals: 6.3& ABV and 74 IBUs.

As is the case with most Lagunitas brews, the label here features some pretty wacky copy. Check it out:

I think we're all Bozos on this bus... I mean, really—who would ever have given their money to a guy with a name like 'Made-Off'? If one day an oily guy named Soprano showed up at your door wearing a suit that said

Countrywide

offering free money; who would have taken it? Isn't 'free money' an oxymoron? If it was all too good to be true, it was. Wasn't the end in sight when 'Flip This House' went on television...? In the future 2009 will be there with 1929, 1941, and 1968. OK, we ALL partied down and, YES, we took some liberties with some of our female guests. Nut now it's the day after Mardi Gras when everyone kneels down and prays. Apparently, it really is possible to have too much fun. But it is far better to have partied and lost than never to have partied at all. Gracefully surrender the things of 2008. Smoke a fag, drink a beer, and buy toothpaste... in that order. Live to party again...



Alright... Well, let's crack the bottle and see what the beer is like.
Appearance:
A crystal-clear golden-amber body capped by two fingers of creamy off-white head that features good retention and lacing.
Aroma:
A blast of bright, floral, and mildly pungent hops with fruit character that ranges from citrus to pineapple. Underneath the hops is a somewhat meek pale malt base.
Taste:
True to the aroma—piney, citrusy, and mildly bitter hops over a toasty pale malt backbone. As you'd expect from an IPA, the balance is certainly tipped towards the hop side of the equation. A nicely bitter aftertaste that endures well.
Mouthfeel:
Medium bodied with good carbonation and some oiliness. Dries in the finish.
Drinkability:
A very sessionable IPA; the bomber disappeared rapidly.
Verdict:
Correction is
certainly a tasty little IPA, and I could drink it all night long. I'd love to see this start showing up in six packs, rather than 22 ounce bombers.

Grade
:
A-
Note: While this review is being published in January, the tasting notes contained within were taken when the beer was fresh last June.