Brewery: Rahr & Sons Brewing Co. | Beer: Blonde Lager
Style: Munich Helles Lager | ABV: 4.8% | IBUs: 22
Serving Method: 12 oz. bottle poured into Pilsener glass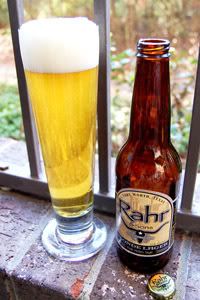 It's time to add yet another Texas brewery to PintLog, and this time it's Fort Worth-based Rahr & Sons Brewing Company. Founded by husband and wife team Fritz and Erin Rahr back in 2004, the brewery has evolved to a capacity of 5,000 barrels per year with distribution throughout the Lone Star State. Their stable includes ten beers—four year-round offerings and six seasonals.
Blonde Lager, one of the year-round brews, was the company's first release, so it seems like a good place to get started. It's a Munich Helles style lager built from 2-Row, Munich, and CaraFoam malt variates and bittered by Magnum and Sterling hops. The company pitch the beer as a "medium-bodied traditional Munich Helles" with a flavor profile featuring "light malty sweetness, breadiness, and restrained bitterness."
Sounds good, let's dig in.
Appearance:
Slightly hazy, pale golden body with a decent white head. Below average lacing.
Aroma:
Faint, sweet barley with grassy hops and a hint of apple.
Taste:
Crisp, grassy, and somewhat subdued hop flavor up front balanced with honey malt bring up the rear. Some apple cider flavors mixed in. The best way I can think of to describe this is as a richer macro without the shitty twang. Somewhat thin, but that's very appropriate for the style. Mildly bitter aftertaste.
Mouthfeel:
Medium-light body with fine carbonation. Finish dries slightly.
Drinkability:
Very easily drinkable and refreshing, this is perfect for a Texas barbecue.
Verdict:
This is the beer that the macros should be.
If you're looking for something simple and drinkable that won't offend at your next BBQ, you'll do a lot better with a case of this than the normal Bud/Miller/Coors fare.
Grade
:
B