Brewery: Boston Brewing Co. | Beer: Samuel Adams Imperial White
Style: Witbier | ABV: 10.3% | IBUs: 15
Serving Method: 12 oz. bottle poured into tulip glass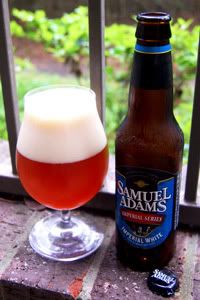 My first experience with the Samuel Adams Imperial Series was the wonderful Double Bock. Well, it may have taken me a while, but I'm ready to continue my evaluation of the series. Up next, Imperal White, a Witbier with a double-digit ABV. Wait, what?

You read that right, this is an Imperial Witbier that tips the scales at 10.3 percent alcohol. It's potent enough that it actually has the highest alcohol content of the series. Hallertau Mittelfrueh is the lone hop variety, while the backbone is built of malted wheat along with 2-Row Harrington and Metcalfe malts.

Pitched as a "wine substitute," Sam Adams claims Imperial White:

Pushes out the boundaries of a Witbier. While the brew delivers orange and coriander notes, typical of Witbers, it has a bigger mouthfeel and body. It's truly a unique brew.

At this point, I'm wondering who decided to go with a Witbier for the Imperial Series, but let's see how it turned out.
Appearance:
Far from white, the body is a rich pumpkin-orange and quite hazy. The off-white head pours very tall and leaves good lacing. Not a typical look for the style, but fetching none-the-less.
Aroma:
A variety of spices and a fruits over a sweet malt base. Perfumey. As you'd expect for a beer with over ten percent alcohol, there is a lot of booze here.
Taste:
It's much the same in the flavor profile. Lots of spice (coriander and pepper) and fruit (pineapple, banana, and citrus). Nothing as far as hops go, but there's a bit of balance from spiciness. This is rather sweet. The booze character is massive, can feel rather out-of-place, and dominates the aftertaste.
Mouthfeel:
Thick and syrupy. Despite the massive ABV, there isn't
too
much burn. Dries slightly in the finish.
Drinkability:
With the ABV and syrupy body, this is a sipper, which seems bizarre for a beer with "Witbier" in the style name.
Verdict:
Imperial White is
not a bad beer, but a baffling one.
If given this in a blind taste test without knowing the style, I'd have no idea at all what it was—Wit certainly wouldn't be my first guess.
To me, Witbiers have always been light and quenching beers perfect to enjoy on a warm Summer's day.
Imperial White is just kind of a syrupy, boozy wildcard that just begs the question "why?" Of all the styles to "imperialize," why Witbier?
Grade
:
B