Brewery: Stone Brewing Co. | Beer: Imperial Russian Stout 2009
Style: Russian Imperial Stout | ABV: 10.5% | IBUs: 90+
Serving Method: 22 oz. bottle poured into tulip glass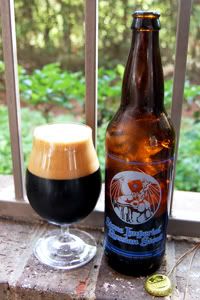 Stone's Imperial Russian Stout is one of the large class of beers I've been wanting to try for years that finally showed up on Houston shelves this year. First brewed back in 2000, this release marks the beer's tenth anniversary—a nice round number on which to start my experience with the beer.

Many people have described Stone Imperial Russian Stout as one of the finest examples of the Russian Imperial Stout style, and it consistently shows up on "best beer" lists. Bitterness is provided by Warrior hops, and though Stone don't disclose the list of what malts are used, they did mention in a blog last year that they added more amber malt to this vintage. Here's how the describe the resulting brew:

Intensely aromatic (notes of anise, black currants, coffee, roastiness, and alcohol) and heavy on the palate, this brew goes where few can - and fewer even dare try.
I've waited a long time to get my hands on a bottle of this, so let's crack it open and see if it lives up to the expectations.
Appearance:
An opaque black body capped by a generous three fingers of caramel-colored head that sticks around for a long time and leaves good lacing. Top marks.
Aroma:
An intense blast of dark roasted malt with plenty of dark chocolate, dark fruit, and dark coffee notes (notice a trend developing here?). But as big as the malt body is, this is not just a one-sided affair, with decent pockets of hops and alcohol to be found amongst the malt.
Taste:
Just as strong as the nose promised, the complex malt base absolutely dominates and features notes of bittersweet chocolate, dark fruit, molasses, and dark roasted coffee. The hop character from the nose shows back up towards the end to offer a little added depth. While the alcohol content certainly lets its presence be known, its deceptively smooth, feeling closer to about eight percent. The aftertaste is roasty and chocolaty with wisps of alcohol interspersed throughout.
Mouthfeel:
A thick, creamy full body with only mild carbonation cutting through and a dry finish. After your sip, there's enough of a coating left in the mouth to keep everything alive for a long time. The alcohol leaves some warmth and slickness, but not as much as you'd expect with it weighing in at a hefty 10.5%.
Drinkability:
Quite the sipper, which is no surprise given the style, alcohol content, and IBU rating. A brilliant beer to savor after a meal.
Verdict:
Certainly worth all of the the hype, Stone's Imperial Russian Stout is a damn fine beer that is well worth seeking out for any Stout fan. As good as this tastes now, I can't wait to see how this ages.
Grade
:
A
Note: While this review is being published in January, the tasting notes contained within were taken when the beer was fresh last June.