Brewery: Brewery Ommegang | Beer: Hennepin
Style: Saison | ABV: 7.7% | IBUs: ~25
Serving Method: 750ml bottle poured into tulip glass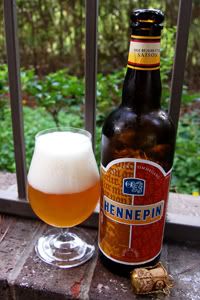 Earlier this week, I posted my first review of an Ommegang beer with their Ommegang Abbey Ale. Now I'm back with Hennepin, another of their year-round offerings. Hennepin is a Saison, and just like earlier with Ommegang, this is the first example of the style I've reviewed here. You know what that means, we get the obligatory "first review of a style breakdown."

Saisons, also known as Belgian Farmhouse Ales, were originally brewed at the end of the winter to be drunk throughout summer. Therefore, the beer had to be fortified enough to last, yet still be refreshing and quenching when it was drunk. Saisons had been fading in popularity, but have enjoyed a comeback recently, especially in the US. Traditionally, the style is a bit of a grab bag of different beers with different brews with different characteristics, but the style is now coming together a bit. The BJCP decribe the style as:

A refreshing, medium to strong fruity/spicy ale with a distinctive yellow-orange color, highly carbonated, well hopped, and dry with a quenching acidity.
Named after Father Hennepin, who discovered Niagara Falls, Ommegang classify Hennepin as a Grisette. From my research, Grissette is an arcane sub-classification of Saison/Farmhouse, though there isn't much out there to go on. Anyway, here's how Ommegang (poetically) describe Hennepin:
As you pour this rich golden ale into your glass, consider your surroundings. Are you in a restaurant? Outside on the deck? Is it hot and humid? Cold and brisk? Take a drink. Feel the way Hennepin is bright and lively in your mouth with a warming mix of spicy gingersnap and citrusy hops. Refreshing. Relaxing. It's true: no matter where you are, Hennepin is the perfect ale for all seasons.
Refreshing and relaxing is just what I'm looking for right now. Let's hope it can deliver.
Appearance:
A nicely hazy golden-straw body with three fingers of slightly off-white, bubbly head that sticks around and leaves good lacing.
Aroma:
A honeyish malt body with fruity (golden fruit, citrus, and banana), yeasty, and spicy (clove, coriander, and pepper) notes. Some traces of booze, but not much.
Taste:
Up front, a sweet pale malt character with fruit, spice, and ever-so-mild molasses twinge towards the end. It's somewhat sour and dries towards the end. Hints of alcohol in the end, in just the right proportion. It may not the most complex flavor profile, but it's quite satisfying.
Mouthfeel:
Medium-light bodied and smooth with good carbonation. Crisp with a dry finish.
Drinkability:
Generally good, but reined in a little by the moderately-high alcohol content.
Verdict:
Hennepin is a great beer to sit down with an enjoy on a peaceful Summer evening. It may not be the most complex Saison out there, but it's still well worth a try.
Grade
:
A-