Brewery: Boston Brewing Co. | Beer: Samuel Adams LongShot Cranberry Wit
Style: Witbier | ABV: 5.0% | IBUs: 22
Serving Method: 12 oz. bottle poured into pint glass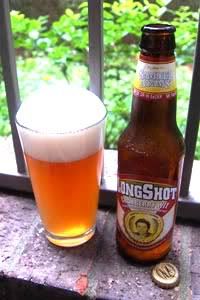 Continuing my late as hell wrap-up of the 2009 LongShot mixed pack is Carissa Sweigart's Cranberry Wit. A sales representative for Samuel Adams, Carissa won the employee contest in 2008. What's even more impressive is that she had never entered a homebrew contest before. Way to start out strong!

Carissa was inspired to brew Cranberry Wit as a tribute to both the Witbier style and her home town of Cape Cod. As for ingredients, the backbone is built of flaked wheat and Belgian Pilsner malt, Sterling and Golding hops make up the hop bill, bitter orange, cinnamon, coriander, grains of paradise, and Ocean Spray cranberry juice are the special ingredients and everything is brought to life by a combination of Belgian Witbier Forbidden Fruit yeasts.

Here's how Sam Adams describe the finished product:

Carissa's brew is bright, fruity and refreshing. The perfect beer to sip on a chilly day, this crisp brew is flavorful and well rounded.
Sounds good, let's check it out!
(Just a quick reassuring note: the notes below were taken when the beer was still fresh back in 2009.)
Appearance:
A deeply hazy, golden-orange body capped by a creamy off-white head that's ever so slightly rose-tinged. The head sticks around a while and leaves good lacing.
Aroma:
Bready wheat with some nice spiciness and light yeast character. Essentially your standard Wit so far; not much from the cranberries here.
Taste:
Cranberries come alive in the flavor. A splash of moderately sour cranberry juice layered nicely over the bready and moderately spicy Witbier underneath. The aftertaste is wheaty with a nice hint of cranberries.
Mouthfeel:
Medium bodied with good carbonation and a drying finish.
Drinkability:
A brilliant session choice (if this were available outside the mixed six-pack, of course), just keep in mind the ABV.
Verdict:
Carissa has brewed up a solid enough Witbier with a nice cranberry twist. It may not be an earth-shaker, but I can see this working well as a Samuel Adams Summer seasonal.
Grade
:
B
Note: While this review is being published in 2010, the tasting notes contained within were taken when the beer was fresh last year.