Brewery: Boston Brewing Co. | Beer: Samuel Adams LongShot Traditional Bock
Style: Bock | ABV: 6.8% | IBUs: 28
Serving Method: 12 oz. bottle poured into Pilsener glass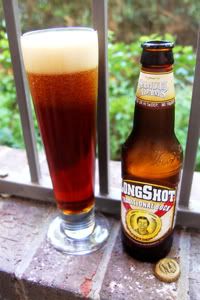 Well, it's that time of year again, when Samuel Adams releases it's LongShot mixed pack. While I should be posting reviews of this year's beers, I'm actually wrapping up the reviews of last year's. Late pass! Don't worry though, the notes below were taken when the beer was still nice and fresh last year.

Anyway, we're checking out Alex Drobshoff's winning entry from the 2008 contest: Traditional Bock. Alex was inspired to create up this recipe after talking with some friends about how German beer exported abroad was never as good as the real stuff back home. He decided since he wasn't able to fly out to Germany whenever he was in the mood for a good German beer, he'd take a shot at brewing up an authentic German Bock himself.

Since Bocks need to be lagered and Alex was not in possession of an underground cave, he could only work on the beer during the winter. It took two winters to get the beer where he wanted, and after picking up a few blue ribbons, he was ready to submit it to Sam Adams. The rest, as they say, is history.

As for construction, the backbone is built from 2-Row, Munich, Crystal, and Chocolate malt varieties, Hallertauer hops are used exclusively, and Märzen lager yeast is used to get everything going.

Here's how the guys at Sam Adams pitch the beer:

Alex's beer features hints of rich plum and cherry aromas paired with its toasty, malt flavor make this a great beer to linger over on a cool evening.
Let's pretend that it's a cool evening back in 2009 and crack this bad boy open.
Appearance:
A clear, brownish-orange body capped by over a finger of creamy, off-white head featuring decent retention and lacing.
Aroma:
Rich malt with great nutty and dark-fruity notes; certainly on point for a Bock.
Taste:
Just what you'd expect to find in a Bock: earthy, nutty, bready, and ever so slightly chocolaty dark malt. There's some balancing bitterness from the hops, but not much. Towards the end, a nice little flourish of booze that shows up and compliments everything perfectly. I think the best way to describe this is somewhere between what passes as a Bock today and a Doppelbock.
Mouthfeel:
A smooth, medium body with good carbonation and a drying finish.
Drinkability:
It goes back easily, just keep in mind the moderately high alcohol content.
Verdict:
Another hit from the LongShot series, Alex's Traditional Bock is a real winner and dead-on for the style. If this were on the shelves all the time, I'd be sure to pick up a six-pack every now and then.
Grade
:
A
Note: While this review is being published in 2010, the tasting notes contained within were taken when the beer was fresh last year.