Brewery: Brooklyn Brewery | Beer: Local 1
Style: Belgian Golden Strong Ale | ABV: 9.0% | IBUs: 32
Serving Method: 750ml bottle poured into tulip glass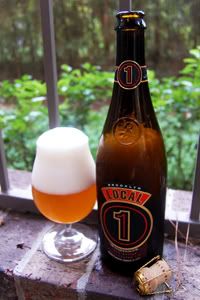 The first in Brooklyn's Big Bottle series, Local 1 is a Belgian Golden Strong Ale (though Garrett has been known to refer to it as a "strong Saison"). It debuted in 2008 and is based on the old draft-only brew Fortitude. Despite being on the shelves for just a couple of years, the beer has already built up a lot of buzz and spawned a second beer in the series.

As for basic construction, the backbone is built from two-row Pilsener malt from Bamberg, Germany, hop character comes from Hallertauer Perle and Styrian Golding varieties, and everything is brought to life with Belgian yeast. The recipe also calls for raw sugar from the tiny island nation of Mauritius. Once fermented, the beer is bottle conditioned for more depth.

Here's how Brooklyn describe the finished product:

Behind the full golden color you'll find an alluring aroma, a dynamic complex of flavors, Belgian flair, Brooklyn fortitude, and a dusting of our special yeast.
Sounds great, let's pop this cork and get started.
Appearance:
Wow, what a gusher! Despite a week of sitting still in the fridge, after carefully removing the cork from the bottle, the beer starting flowing out of the bottle like champagne within seconds. In fact, a few minutes after pouring the first portion, a two inch tower of dense foam snaked out of the bottle and softly floated down to the table. It's alive! Once you finally corral the beer into a glass, a beautifully hazy apricot-orange body is revealed. Up top, a massive cap of off-white head fades slowly and leaves great lacing. Local 1 puts on quite the show, even before you've raised the glass to your nose.
Aroma:
Clearly a Belgian-style beer, the nose is a mix of golden fruit, a bouquet of spices, bubblegum-like yeast, earthy hops, and some nice alcohol.
Taste:
Much the same as the aroma: leafy and earthy hops, mild bubblegum, golden fruit, cloves, coriander, peppery phenols, and bready yeast all over a pale malt backbone. The alcohol is masked beautifully. Fruity and yeasty in the finish.
Mouthfeel:
Medium bodied with great carbonation and a drying finish. Just a
hint
of burn from the alcohol.
Drinkability:
This is certainly a beer to be savored, but it's hardly a task to polish off a glass or two.
Verdict:
To be perfectly frank, after sampling a few of Brooklyn's more mainstream beers, I was starting to wonder what all the fuss was about. But after a bottle of Local 1, I wonder no more. This is, without a doubt, one the very best Belgian-style American beers I've tried yet.
Grade
:
A