Brewery: Harpoon Brewery | Beer: UFO Hefeweizen
Style: Hefeweizen | ABV: 4.8% | IBUs: 19
Serving Method: 12 oz. bottle poured into Weizen glass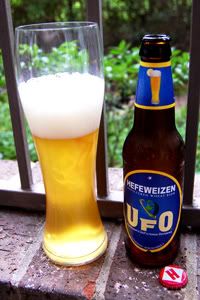 Dating back to 1998, UFO Hefeweizen has become one of Harpoon's most popular beers. In fact, it's become so popular that UFO has become a sort of spin-off brand for Harpoon, spawning three more beers in the line. Here's how they describe the flagship:

The overall character is a cloudy appearance with a citrus-like aroma, light body, and clean finish.
While Harpoon describe this as a Hefeweizen in the name (though an "American Unfiltered Wheat Beer" on the UFO site), not everyone agrees. You'll see this listed as an American Pale Wheat Ale around the web because it uses a north German yeast instead of one of the traditional Bavarian strains, but I've decided to list this as a Hefe in keeping with both the brewer's intentions and simplicity's sake.
Anyway, style distinctions aside, let's see how it measures up.
Appearance:
A brilliantly hazy, orange-tinged golden body with brilliant tendrils of yeast stretching from top to bottom. Up top, a big, fluffy off-white head that leaves patchy lacing.
Aroma:
Lemon and some yeast over a sweet, untoasted malt and wheat base. Perhaps a little thin, with traditional Hefeweizen banana and clove aromas are notably absent.
Taste:
The focus here is a sweet, bready wheat malt body. Mild bitterness towards the end and perhaps a little spice (but that might be due to the power of suggestion). Overall, it's tasty but just a little thin. The aftertaste is relatively brief, but tastes of wheat.
Mouthfeel:
Medium bodied and smooth with similarly smooth carbonation. It dries a little in the finish.
Drinkability:
This goes back quickly and quenches nicely; very sessionable.
Verdict:
Ultimately, I find this to be a just a bit boring. Regardless of any issues of fitting into a specific style, UFO just never really gets my attention. It's tasty enough but I could do with a little more intensity and interest.
Grade
:
C+