Brewery: Harpoon Brewery | Beer: UFO White
Style: Witbier | ABV: 4.8% | IBUs: 10
Serving Method: 12 oz. bottle poured into pint glass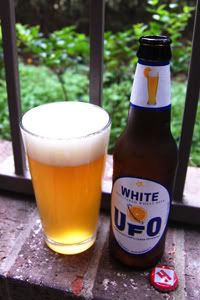 Earlier today, I reviewed Harpoon's UFO Hefeweizen and mentioned that it was such a hit that it had spawned a whole new brand. Well, only one of the beers in that line has made it to Houston: UFO White. While the Hefeweizen was rather mediocre, I still have high hopes for this brew.

As the name implies, UFO White is a Witbier. Harpoon doesn't provide any specifics on ingredients or process besides the fact that it's brewed with orange peel and "a unique blend" of spices, but here's how they describe the finished product:

Light, crisp, refreshing UFO White follows in the tradition of spiced wheat beers that have been brewed in Belgium for well over 300 years. UFO White is the perfect choice for a summer's barbecue, a night out with friends or any time you're thirsting for something a little different.
I'm not sure if I'm
quite
thirsting for something a little different, but let's crack this bad boy open anyway.
Appearance:
A beautifully hazy, golden-straw body capped by a finger and a half of creamy, nearly white head that features good retention and lacing.
Aroma:
Floral and perfumey citrus over a mild wheat base. I can almost imagine that this is a fancy candle under my nose.
Taste:
Perfumey citrus peel, tropical fruit, mild yeast, and spices (clove and coriander mostly) over a bready wheat base that is much more pronounced than in the nose. The aftertaste is citrusy and bready.
Mouthfeel:
Medium bodied and creamy with sharp carbonation. Dries a little in the finish.
Drinkability:
A very drinkable proposition, though the perfumey character might get a little old.
Verdict:
UFO White is perhaps a more floral take on the Witbier than most, but still a solid enough brew that's perfect for Summer.
Grade
:
B