Brewery: Rahr & Sons Brewing Co. | Beer: Winter Warmer
Style: Winter Warmer | ABV: 9.0% | IBUs: 43
Serving Method: 12 oz. bottle poured into pint glass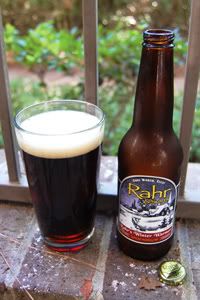 What better time than the middle of a Texas summer to post a review of a winter seasonal? It's a bit of a grab-bag today on PintLog as we clear out some old notes that have been hanging around, so please excuse the odd timing. Rest assured though, the notes below were taken back when the beer was fresh.

Anyway, today's out-of-season Texas seasonal is Rahr's Winter Warmer. Brewed in the style of an English Dark Ale, the backbone is built with 2-Row, Crystal 40, Cara Munich III, and Chocolate malt varieties. As for hops, Magnums and East Kent Goldings are employed.

Here's how Rahr pitch the finished product:

Wonderfully robust, rich and full-bodied, Rahr's Winter Warmer is crated in the fine British tradition of holiday ales. Perfect for either holiday gatherings or quiet evenings at home.
Well, the weather outside might not be frightful, but let's dig in anyway!
Appearance:
A murky mahogany-brown body with plenty of ruby highlights. Up top, a finger's width of off-white head that recedes rather quickly and leaves barely any lacing.
Aroma:
Roasty malt with lots of nutty, spicy, and raisiny notes. Maybe a little cocoa as well.
Taste:
Rather unique, this is very nutty, herbal, and almost vegetable-like. There's still plenty of dark fruit and roasty malt in the mix as well. The alcohol is hidden very well and the aftertaste is of grainy and roasty malt.
Mouthfeel:
Surprisingly for the style, this is a little on the thin side. Dry throughout.
Drinkability:
Between average and sipper territory. While it's somewhat light-bodied and the flavor profile isn't overly powerful or boozy, eventually the alcohol content has to slow you down.
Verdict:
To be frank, I'm a little confused by this beer. Rahr's website list this as full-bodied, and that's certainly what you'd expect from a Winter Warmer, but the body just fails to measure up. So while it's certainly not a
bad
beer, it's not a particularly good one either.
Grade
:
C
Note: While this review is being published in August, the tasting notes contained within were taken when the beer was fresh two winters ago.