Brewery: Independence Brewing Co. | Beer: Freestyle Wheat Beer
Style: American Pale Wheat Ale | ABV: 4.7%
Serving Method: 12 oz. bottle poured into Weizen glass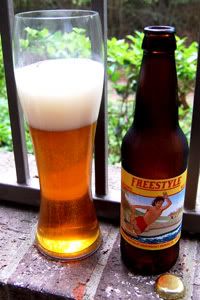 Inspired by Texas summer days spent at their favorite swimming holes, Independence describe Freestyle as being similar to a "a Pilsner brewed as an ale." This is the brewery's lightest beer and they list it as an American Wheat Beer, noting they feel it could also justifiably be referred to as a Blonde Ale. Freestlye, indeed.

It's brewed with Horizon hops, Two-Row Pale, and American White Wheat malts, and American ale yeast. Independence describe the finished product as:

Crisp, light-bodied, and refreshing [with] dry flavor followed by a slightly sweet malt finish. Freestyle is the taste of summer in Texas.
Well, the temperature outside is certainly right for this beer, I just wish I had a swimming hole to enjoy it with.
Appearance:
A somewhat hazy, golden-orange body with a nice, near white head. Great curtains of lace.
Aroma:
Sharp citrus and some apple cider notes over a wheat base. Almost reminiscent of an apple pie at times.
Taste:
A solid cereal-like wheat backbone is very much in charge here, and is heavy on the cereal-grain flavors. It reminds me of Weetabix, which is certainly not a bad thing. There's a little hop character towards the back, but this is certainty a wheat-forward beer. The aftertaste keeps the cereal flavors going.
Mouthfeel:
Medium-bodied with good carbonation. It dries a little in the finish.
Drinkability:
You really can't fault it here, this is quite quaffable.
Verdict:
A unique take on the American Pale Wheat Ale style, Freestyle is a likable beer for me. It has more of a spotlight on the wheat than most beers in this category, which offers up a nice change of pace that I appreciate. Still an easy and refreshing drink, this would be great on a Summer's day here in the Lone Star State.
Grade
:
B+