Brewery: Boston Brewing Co. | Beer: Samuel Adams Holiday Porter
Style: English Porter | ABV: 5.8% | IBUs: 35
Serving Method: 12 oz. bottle poured into pint glass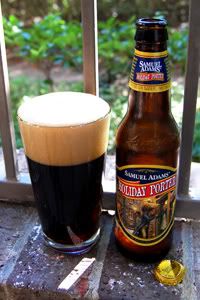 Showing up every winter for the last six years in Sam Adams' mixed seasonal pack, Holiday Porter has built a reputation as one of the brewery's best beers. It's what Sam Adams describe as a traditional-style British Porter and was brewed as a tribute to the original beers and those it was named after.

While it's still pretty far from the holiday season, the unseasonably cool weather here in Houston has me in a wintry mood, so I figured it was as good a time as any to post my notes from the 2008 batch.

There's a pretty complicated ingredient list behind the beer. The backbone is built from Two-Row Harrington, Metcalfe, Copeland, Caramel 60, Munich 10, and Carafa malt varieties along with flaked oats to help round everything off. It's hopped with East Kent Goldings, Fuggles, and Spalt Spalter noble nops, with more Goldings added during a bout of dry-hopping. As usual, everything is brought to life with the house ale yeast.

Here's how the describe the finished product:

Robust and full bodied. Deep, rich and roasty malt balanced with traditional English ale hops and a touch of German Noble hops.
It's still not December yet, but let's dig in anyway.
Appearance:
A murky, deep dark brown body that blocks most light, except for a few ruby highlights. Up top, two solid fingers of tan-tinged head with good retention and great lacing.
Aroma:
Equal proportions of roasted malt, milk chocolate and toffee with some hints of dark fruit and nuttiness thrown into the mix.
Taste:
The taste follows the aroma well, but is a little less sweet and adds a mild coffee dimension. This is very much a Porter, but perhaps a little lighter in intensity than usual. The aftertaste is nicely roasty and nutty.
Mouthfeel:
A silky body that's perhaps a little fuller than medium accompanied by smooth carbonation. Dries in the finish.
Drinkability:
Securely in the middle of the drinkability spectrum.
Verdict:
Holiday Porter is certainly a welcome inclusion in the Sam Adams Winter seasonal pack and fits the season well. But, that being said, I can see why they don't offer it year-round - it's just not very compelling.
Grade
:
B-
Note: While the review above is being posted in October 2010, the tasting notes contained within were taken when the beer was fresh in December 2008.