Brewery: Great Divide Brewing Co. | Beer: 15th Anniversary Wood Aged Double IPA
Style: American Double India Pale Ale | ABV: 10.0% | IBUs: 90
Serving Method: 22 oz. bottle poured into tulip glass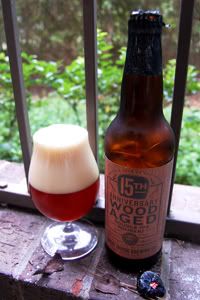 As Great Divide was founded in 1994, you might have noticed I'm a little late publishing this review. Fear not though, for the notes are based on a fresh sample back in 2009. Anyway, better late than never, right?

Anniversary brews are a good time to experiment, and it looks like Great Divide took that chance and ran with it. IPAs are best fresh, so it's not very often you see one that's been aged for any length of time. Based on the company's Denver Pale Ale, this Double IPA has been aged in American and French oak to create a unique flavor profile that Great Divide describe thusly:

Plenty of malty sweetness provides a backdrop for earthy, floral English and American hops, while French and American oak round off the edges and provide a touch of vanilla.
The resulting beer (and a candidate for the longest beer name ever): Great Divide 15th Anniversary Wood Aged Double IPA. Whew, that's a mouthful. Speaking of a mouthful, let's crack this puppy open and take a taste.
Appearance:
A slightly hazy, deep reddish-orange body capped by three fingers of off-white head that fades slowly and leaves brilliant lacing.
Aroma:
Vanilla and coconut notes from the aging over citrusy hops and a caramel malt base.
Taste:
Up front, it's your standard Double IPA with a wave of nicely bitter, citrusy, and piney hops over a rich caramel backbone. Towards the end though, the vanilla shows back up along with some nice oakiness to give the whole thing an added dimension. There's plenty of booze throughout, but it never steps over the line. The aftertaste is citrusy and resiny with a splash of oakiness.
Mouthfeel:
Medium-full bodied with smooth carbonation and a dry finish.
Drinkability:
About average for the style, this is
just
shy of a full-on sipper.
Verdict:
A fitting tribute to a great brewery, 15th Anniversary is essentially a solid Double IPA with plenty of added complexity coming from the aging process. It's too bad this is a one-off, as this is something I'd like to throw into the rotation.
Grade
:
A-
Note: While the review above is being posted in 2011, the tasting notes contained within were taken when the beer was fresh in 2009.